Model T Ford Blog
The Model T Ford blog will:
- tell you whenever new web pages appear on Model T Central
- let you know when new technical articles, free downloads and photo's are available
- keep you informed of new or featured parts and accessories
To subscribe to Model T Ford blog (you don't need email), right-click on the orange RSS button (see bottom buttons to the left) and then paste the link into your RSS reader.
Are you new to RSS and blogs? (don't worry I am too!)Click here for an explanation RSS Made easy
1909 Model T Ford Touring Car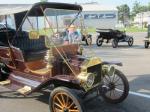 Built at the Piquette Plant in Detroit Michigan on June 26th 1909. She was shipped to New York state where she was owned by 2 owners for nearly 100 years.