Welcome to Model T Central
There is a vast amount of information on the Model T Ford on the Internet, so why should you read on? Well, when I started looking for information I needed on the Model T, I found it took me ages to wade through all the sites to find what I needed to know. From this came the inspiration to build this site for you; a one stop reference tool.
As you explore this site, you'll find information and links to all sorts of information. These are just a few examples:
Researching a project? Try the history page, a summary of the history of the Model T Ford and it's inventor, Henry Ford.
Need technical help? The technical page has illustrations and simple explanations of the workings of the Model T.
Want to see the different styles of T's through it's evolution? Check out the photo gallery, compiled with the help of Model T enthusiasts from around the world.
You'll also discover links and information to reference books, parts suppliers, (yes, almost everything for the Model T can be bought!) restoration products and processes and more....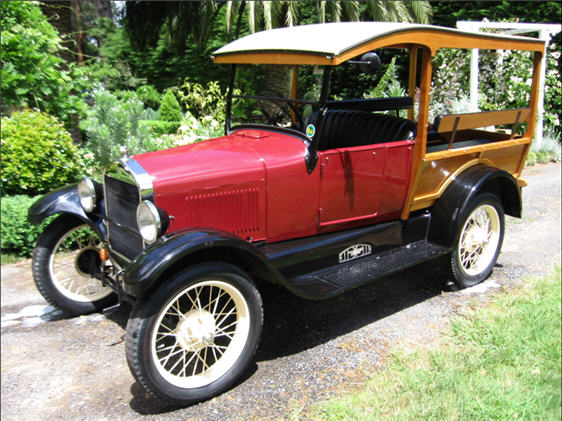 Custom Search
The Model T Ford Blog keeps you up to date with all things new and updated on ModelTCentral.com website without you having to search for it. Subscribe here
The page tells my Model T Ford story and how I ended up building this website.
Model T Ford Gallery of photo's- If you're looking for photo's of Model T's you'll find them here
View Model T Ford photo's in members' slideshows
This Model T Ford page houses a collection of Model T Ford related video clips
This Model T Ford is dedicated to period images and video of the Model T Ford
Want to know something Model T Ford Technical wise? Perhaps the T's Engine, Transmission, Electrical system or some other component, this is where you'll find an overview.
Need Model T Ford restoration help? A wide variety of information on paint and rust removal, rust treatments, tips and hints are here.
With the success of the Model T Ford cars, Henry Ford introduced the commercial version of the T model and named it the TT Ford truck.
The Model T Ford Spare Parts page is a library of links to spare parts suppliers and feature articles.
Model T Ford, remove the rust or treat it? There are a number of various methods and products available for the treatment of rust and preservation of other materials such as leather and brass.
The Model T Ford had a vast amount of accessories available in its heyday. This page details some old and articles on current products
This Model T Ford page is dedicated to Speedsters from around the world
The True-fire electronic ignition module may be able to help with your Model T Ford ignition trouble, read about my True-fire experience here
This Model T Ford page provides a range of reference material, documents and book titles
This Model T Ford page lists Model T Fords and related items for sale from all over the world
Use this page to contact us with feedback, comments and photo submissions
Read Model T Ford stories from visitors to Modeltcentral.com, where they found their cars, the history, restoration, favorite touring country, photo's and video here
Ford Model T History - a brief look at the history of Henry Ford, his Model T and the adoption of the assembly line in production
This Model T Ford page details the site map of Model T Central. Navigate directly to Model T information or use the navbar on the left