January 1927 Roadster Pick Up.
by Terry
(Papamoa, New Zealand)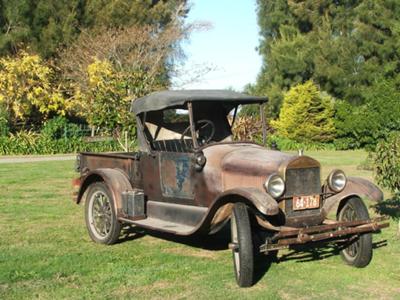 I had the mechanicals of this T for years under my bench. Three years ago I thought I should assemble it up to a rolling Chassis.The engine was in bits, but after assembly it runs like a clock. Makes me wonder why someone dismantled it years ago.It took 3 years to find the body parts,fender here, door there etc, etc, all over New Zealand. But now it's all complete with everything the right year. I have repaired all the rust, and painted it RUSTY. Even down to the original top I got off a mate who had just replaced his with a new one. Also the Kero side lamps have a genuine Ford bracket that fits the 26-27. Never seen that in the States or Canada. The idea here is to create that barn find T. My son can restore it to its former glory, or leave it as a Hill Billy Truck
Join in and write your own page! It's easy to do. How? Simply click here to return to Show the world your T!.